Minecraft Texture Packs
— October 20, 2012, 1:55 pm
Category : Minecraft Texture Packs
Genres : Doku Texture Pack
Resolution: 16x, 32x
Developer : HienkyakuX
Compatible : Minecraft 1.3.2 , Minecraft 1.4
Last Updated : October 20, 2012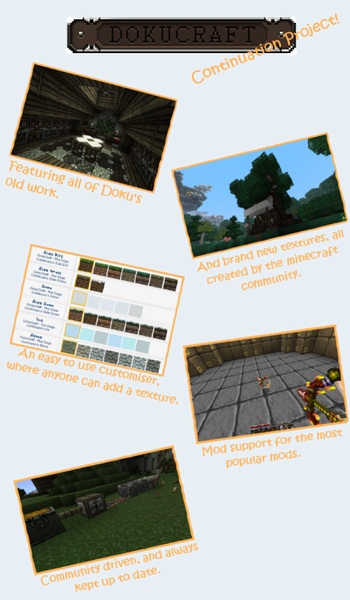 This texture pack brings you Doku's work and continuation from a very talented group of fans that have been fatefully working on keeping the pack alive and as close as possible to how Doku would have done it. This pack brings you the 3 themes that made it famous and what made this one of the top texture packs out there: Light, Dark and High.
How to install DokuCraft Texture Pack for Minecraft 1.3.2/1.4
Download the texture pack.
Install lastest version of MC Patcher HD fix or OptiFine.
Move the downloaded file into your Minecraft texture packs folder.
Enjoy!
Update log
Update for 1.4 (10-20-2012)
Replaced some wrong dimension gui.
Added missing textures for light from the last update.
Note: Do to file size and some mods getting outdated on the 1.4 update some mods will no longer be added to this file distribution. This mods will be still be work on but will be found at our thread OP.
Download DokuCraft Texture Pack The Saga Continues for Minecraft 1.4:
For Minecraft 1.4 Pre
For Minecraft 1.3.2